MidSummer Curb Appeal Refresh Make your Property Stand Out against the Competition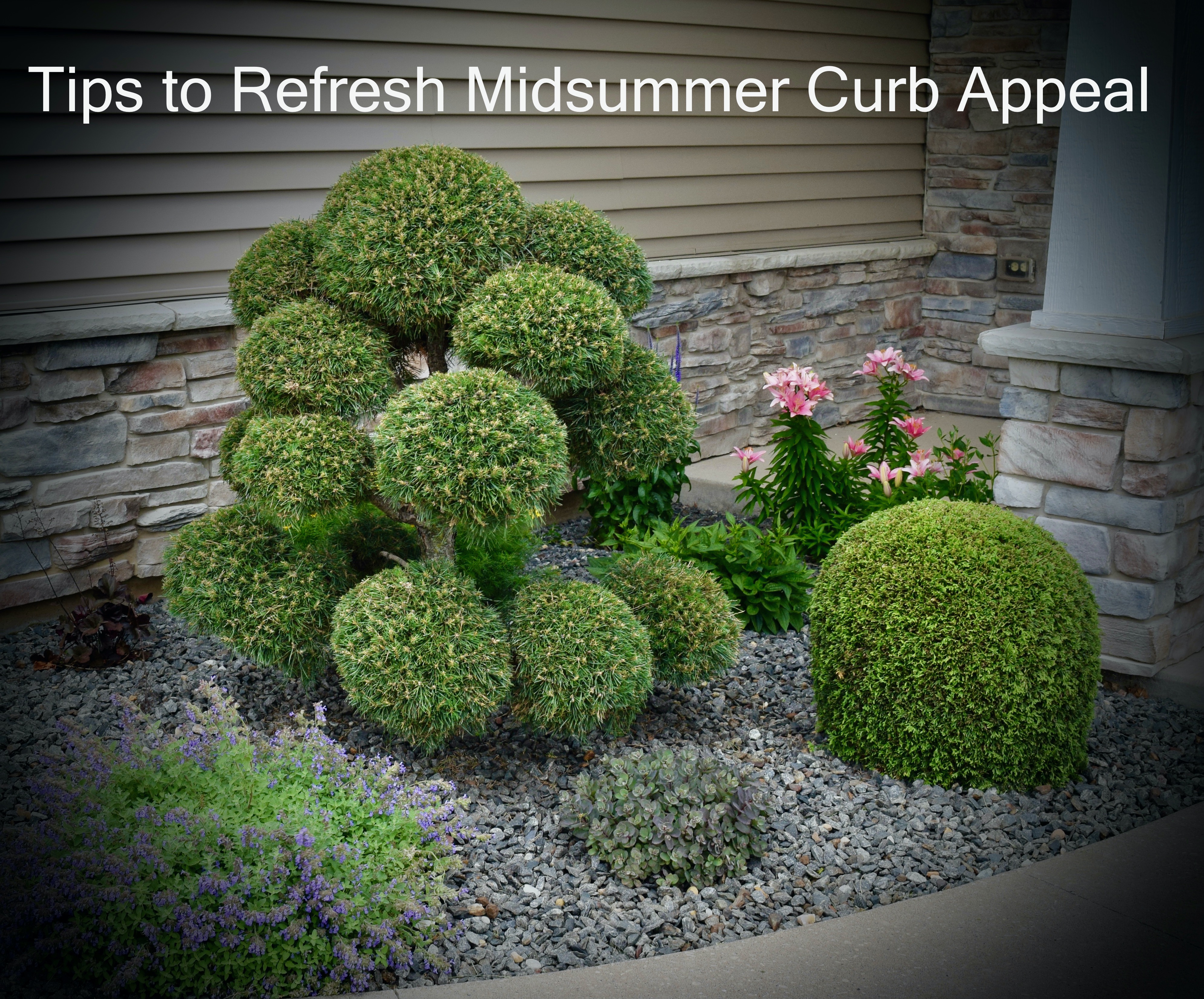 MidSummer Curb Appeal Refresh
Make your Property Stand Out against the Competition
Lush Lawns are the homes exterior Welcome Mat, Show it some love. Water if you are able. Pull weeds. Fill in Bare spots. Keep lawns mowed, trimmed and healthy.
Give Driveways, Walkways, Decks and Concrete some midsummer attention.

Sweep, Clean and Wash. Touch up scuffed stain and paint.
Tidy Outdoor Living Spaces. Put away toys, tools, items that have migrated from sheds, garages and other spaces. Clean outdoor upholstery and textiles. Make your outdoor living space an extension of the living room to enjoy.
Clean Windows, Doors and Entryways. Remove dirt, debris, and cobwebs. Wash & Dry. Avoid temptation to pressure was windows, doors and siding, pressure can cause damage and break seals.
Spruce up landscaping. Trim dead blooms. Reshape overgrown hedges & plants. Replace missing and thin mulch. Trim greenery away from the home to avoid damage and optimize the view. Add some new midsummer blooms.
Update Homes Accessories, Front door, Door Numbers, Mailbox, window boxes, and Shutters some love. Clean and repaint in a color that stands out but is complementary to the home's color scheme. Add some new address numbers that set the home apart from the competition.
Tidy Up the yard. Now is the perfect time to declutter and tidy up your yard. Put things back in the garage, shed, and toy boxes. Donate the forgotten toys and items longer used. Remove unsightly clutter.
Shed some Light on your property. Clean and touch up scuffed or missing paint. Replace light bulbs. Add spotlights to highlight key features of your home and landscape. Add New light fixtures to the Entry and stand out and compliment other updates you have completed.
Don't forget Pet spaces. Keep presentable, clean, and fresh. Store toys and supplies in an organized manner. Pet owners often note that finding the perfect space for the fur babies is at the top of the Must Have list.
Look at the Homes Exterior like a Buyer. Drive up to the property. Stand in the yard and view from different angles. Walk up to the front door. Sit in the outdoor living space. Walk the yard's perimeter. Take time toAdmire the hard work and address anything missed.